Purified - Out Now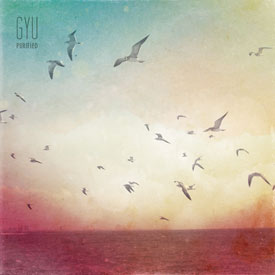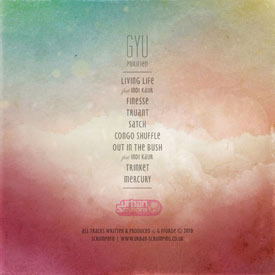 The tenth release on Urban Scrumping is 'Purified' by Gyu.
Following on from his highly successful 'Rorschach' EP on Urban Scrumping and his relocation from Bristol to Moscow, Gyu has been busy in the studio focusing on the deeper side of his productions.
This 8 track release shows why Gyu has been described as 'One of the Urban Scrumping crew's finest producers', showcasing his clinical production which provides dramatic impact alongside melodic depth and will appeal to fans of Pangaea, F, and Pearson Sound.
'Purified' keeps things varied and features the vocal talents of Indi Kaur on the uplifting and meditative sounds of 'Living Life' and the haunting bass fuelled roller 'Out in the Bush'.
The 2step/future garage sounds of 'Trinket' and 'Truant' sit naturally alongside the heavier beats of 'Congo Shuffle' and the hypnotic sub-led grooves of 'Finesse'. Whilst the deeper, emotive sounds of 'Satch' and 'Mercury' help to create a diverse release which chills on headphones and rolls on the dancefloor.
The beautiful sounds of 'Purified' have been getting support from some of the scenes top producers and DJs, including Von D, Hyetal, DJ Madd, Rob Sparx, Kulture, XI, Clubroot, BunZer0, Rob Booth and Bobby Friction.
Download Purified for Free (128 MP3s)
Read full review of Purified - Gyu on Boomkat.com ©